Hear from New Mexicans about the impacts that the current oil bust has had on their lives and our state.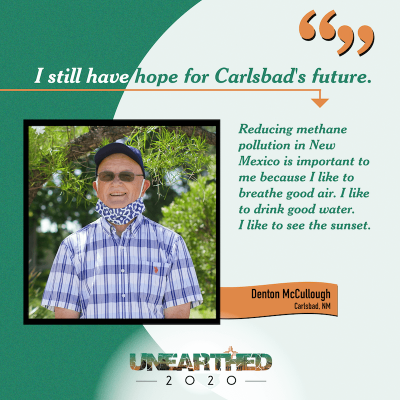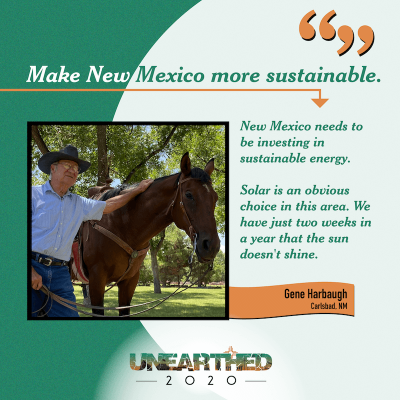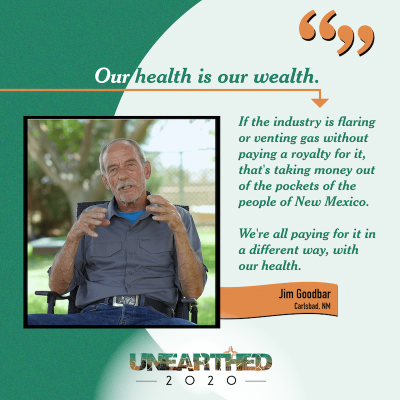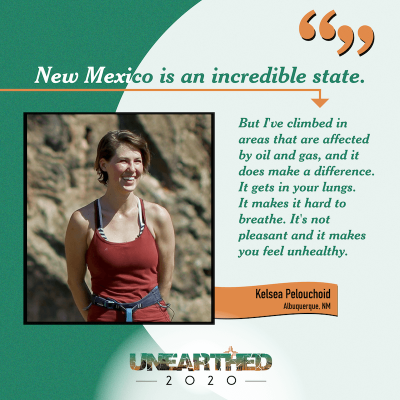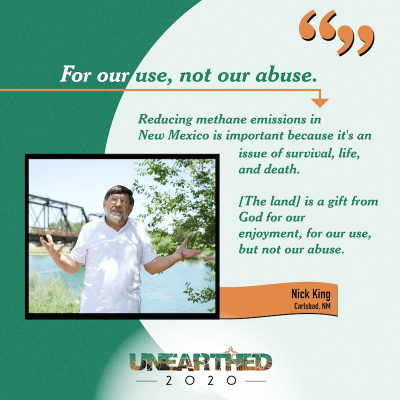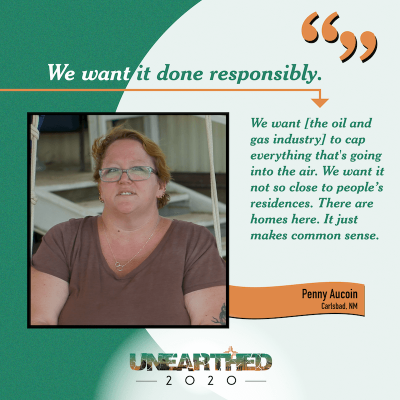 by Liliana Castillo, CAVU
As the public comment period on draft methane and air pollution rules comes to a close on Wednesday, a new CAVU video released today amplifies stories of human, economic and environmental costs of the oil and gas…
Opinion: Elective Leaders Must Heed Local Voices
As Penny Aucoin began recalling the night when a pipeline burst and showered her home near Carlsbad in hazardous oil and gas wastewater, it sunk in just how badly we are failing to protect people who live alongside our state's powerful and unregulated oil and gas industry.
The Richard Eeds Show Radio Interview
Liliana Castillo from CAVU & Pastor Nick King from Carlsbad, NM on The Health Impacts of Drilling & Fracking in Southern New Mexico.
New Mexicans Need Protections from Methane Gases
by Barbara Webber, Health Action New Mexico
Since the beginning of the coronavirus outbreak in New Mexico, media attention has rightly focused on two things: the health statistics of COVID-19 and the economic impact to our state.
Climate Change is a Human Issue
by Miguel Escoto, Earthworks
On the struggle for farmworker labor rights, community organizer César Chávez said: "The fight is never about grapes or lettuce. It is always about the people." One of the misconceptions about the climate crisis is that it's not a human-centered issue.
Energy developments can create imbalance with the Earth
When I was a young boy growingup in Shiprock, I saw flowersand grasses carpeting the semi-desert open range areas. Rains and snows came when they were supposed to.Now we are in a prolonged drought.
Share these stories on social media!
Find them on our Instagram, Facebook and Twitter.
Exploring Oil & Gas Issues in New Mexico
Since its inception, New Mexico's fortunes have been tied closely to the boom and bust cycle of oil and natural gas production. Even before the COVID-19 public health crisis, New Mexico has been struggling to balance its budget and pay for critical services like hospitals and education. The boom and bust cycle of oil and gas drives the state's widely fluctuating revenues. Meanwhile, energy production and distribution is also contributing to massive amounts of uncontrolled leaking methane and carcinogenic gases. Unregulated methane waste represents revenue losses both for oil and gas companies themselves and New Mexico's citizens.
Unregulated pollution is also endangering the health of nearby communities and compromising our air, climate, and cultural resources. Unlike other neighboring extractive states, Colorado and Texas, we haven't been able to leverage our relationship with oil and gas into a diversity of revenue sources and industries by reinvesting the revenue into infrastructure projects and education. As the coal industry leaves the state, we believe there are significant opportunities for oil and gas to be part of the economic, climate, and education solutions.
The global COVID-19 pandemic sent oil prices spiraling, and in turn our state's budget was hit hard. CAVU took our cameras to the heart of the Permian once again to show what happens when another boom goes bust, leaving families and communities stagnant, polluted, and without the resources to plan for the future.
The data is clear – pollution levels in the Permian and the Four Corners area are some of the worst in the entire U.S. These realities are not new, and it begs the question why we have allowed them to linger for so long. As we look to the future, how do bring more stability into our state budget so that our families, communities, and schools come through this strong? How do we grow and diversify our economy so that we can protect public health and our environment for future generations? Our UNEARTHED update looks at these important questions in the context of 2020.
UNEARTHED: Exploring Oil and Gas Issues in New Mexico began in 2018 with a year-long multimedia initiative designed to educate and engage the public in a productive conversation about climate change and energy production in New Mexico. The initiative includes a broad range of communities impacted by oil and gas extraction in New Mexico including: Native American tribes (Navajo, Apache and Pueblo), ranchers, farmers, sportsmen, educators, healthcare industry, child welfare advocates, oil and gas industry, environmental advocates, local, state and national policy makers. In 2020, UNEARTHED continues to support state-based solutions protecting the environment, health, and cultural resources that also work to grow the economy.
Throughout 2018, UNEARTHED released online videos and conduct free public webinars featuring panel discussions moderated by Tara Gatewood, all of which you can find at the bottom of this page.
UNEARTHED utilizes the power of local voices in film, storytelling, and community collaboration to bridge the gap between ideological extremes, linking climate, economy, and health so that they are more easily understood as non-partisan issues.
There are many organizations working on climate change, oil and gas issues, clean energy, public health, education, child welfare, and tribal rights issue in New Mexico. CAVU's UNEARTHED initiative is designed to bring these organizations together and broaden the reach of these programs by adding capacity to the efforts already underway.
We launched this interactive campaign in 2018 with a goal to create a table of conversation for disparate views, which will promote dialogue, broaden perspectives, and deepen understanding of these complicated issues. Our goal remains the same with our UNEARTHED update for 2020.
Watch The 6 Part Video Series
Help us reach more New Mexicans with videos and webinars!
Make your voice heard: Methane matters to New Mexico!
An introduction to methane: problems & solutions
The need for state-level solutions
The history of oil & gas development in New Mexico
Differentiating between the San Juan & Permian basins
How are we "booming" in one basin and "busting" in another?
How energy development exacerbates climate change
Climate impacts to our water, land and culture
What are the opportunities to address climate change and be a good neighbor in the Four Corners?
Living through boom & bust cycles, as told by residents
Impacts to public health and public lands
A community in transition
San Juan County takes stock of all its natural resources
An in-depth look at a basin that's really booming
Grappling with environmental & economic justice and worker health & safety
The Permian as a model for methane capture and opportunities for economic diversification