A Four-Part Virtual Conversation Series
Join a coalition of climate, equity and justice, and environmental organizations as we discuss how oil and gas pollution and the resulting climate change is already impacting New Mexicans and what we can do about it. 
We will be hosting this conversation monthly, noon to 1 p.m. on the last Wednesday of the month through September. Prep your lunch and join us virtually!
Please share this page to get the word out:
Clearing the Air Episode #1: Community, Climate, and Methane
Host rancher and clean air advocate Don Schreiber leads a discussion on climate-change causing pollution and how it impacts New Mexicans and why the NM Environment Department's proposal to cut ozone-forming volatile organic compounds (VOCs) and methane released by the oil and gas industry is so critical for our state with:
Chili Yazzie, a member of the Dine Nation and long-time resident of Shiprock

Dr. David Dubois, NM State Climatologist

Nathalie Eddy, New Mexico Field Advocate for the nonprofit organization Earthworks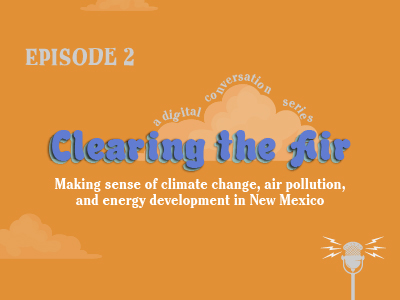 Clearing the Air Episode #2: Climate Adaptation and our Positive Vision of NM's Future
Youth in New Mexico share their vision for our planet in their future. Host Don Schreiber and guests discuss what course changes we need to take now to fulfill our children's visions.

When: noon, Wednesday, July 28
Where: Join on Facebook or YouTube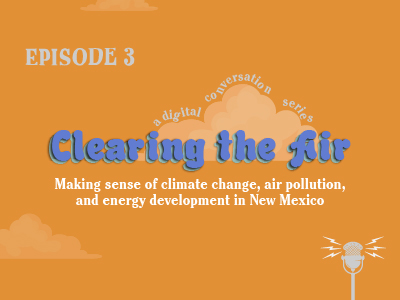 Clearing the Air Episode #3: Policy Oriented Improvements to the NMED's Oil and Gas Rule and Beyond
With a few key additions NMED Air Quality Rules can lead the nation. Host Don Schreiber and guests will take a deep dive on the more technical aspects of the draft rule and how the details can have big impacts on our air and health.

When: noon, Wednesday, August 25 Where: Join on Facebook or YouTube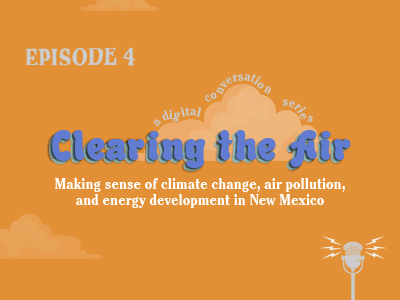 Clearing the Air Episode #4: Climate change impacts me, here's how
When: September date TBD