Climate Innovation Challenge – CIC – 2021
Welcome to the Climate Innovation Challenge!
CIC is our free STEAM curriculum for grades 3-12 that guides students through the creation of climate change solutions and develops storytelling and video production skills. At the culmination of the Challenge, we showcase outstanding student videos and award scholarships and cash prizes for top entries. We aspire to give students a sense of agency and possibility as they move into their educational and professional futures in a climate-challenged world. 
"Participating in the Climate Innovation Challenge showed me that to break apart structural and environmental issues in your town, community or home, you don't have to start with some entirely revolutionary or novel idea. What it boils down to is dipping your toes, even if it's just a little bit, into something you're passionate about and something you think is important." – Maia, Student, New Mexico School for the Arts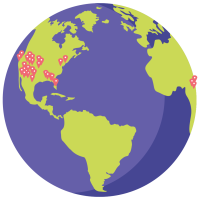 15 states and 7 countries
CIC Founders' Award for Best in Show
"Seagrass: Patching the Holes of Climate Change" by Aidan, Andrea, Andrew, Anthony, Gabriela, Hailey, Jillian, Jocelyn, Kenneth, Luna, Melody, Murilo and Vincent of Cutler Bay Senior High School
Outstanding Entry - International
"Lake Bogoria" by Sharon, Margate, Vibby, Michele, Beatrice, Daisy, Florence, Mercy, Ruth S., Ruth K., Nelly, Vivian, Faith and Joy of Lake Bogoria Girls High School
Outstanding Entry – Middle School
"Creating Backyard Habitats" by Athena and Adrian of Albuquerque Academy
Outstanding Entry – Elementary School
 "Fashion Crisis" by West of Carlos Gilbert Elementary
Outstanding Entry – High School
"High Schooler's Guide to Thermal Solar Power" by Teagan of New Mexico School for the Arts
Most Effective Storytelling
"Managing Our Taxes to Combat War & Climate Change" by Ana of New Mexico School for the Arts
Sponsors and Community Partners