Ahead of the Tide - Webinar Series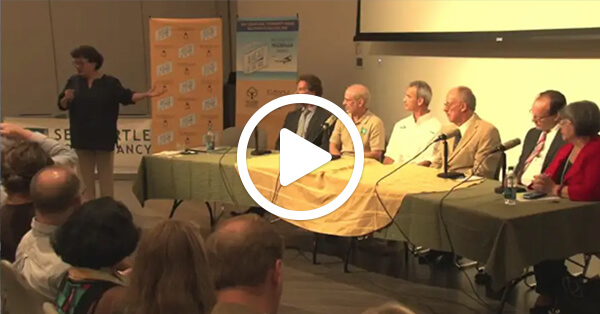 We kick off our web series by convening with experts and concerned citizens at the University of Miami. Tune in to learn the focus of the Ahead of the Tide initiative! Following opening remarks, an eclectic panel discusses why and how Florida must flight the threat of sea level rise!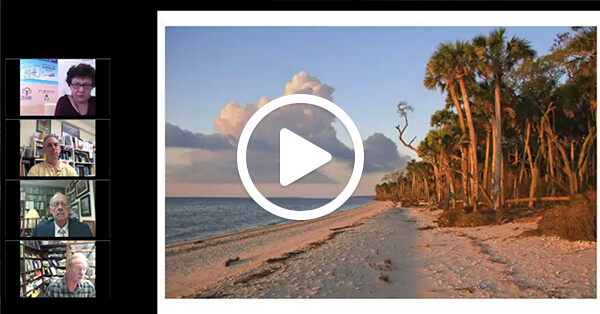 Our first webinar features a discussion on the impacts of sea level rise from the perspective of a geologist, an oceanographer and an economist. Join us to learn the myriad of ways in which sea level rise affects Floridians!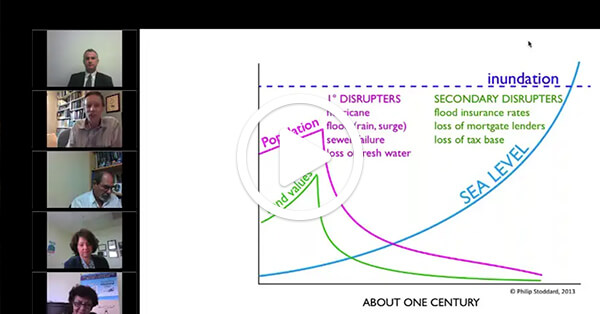 This installment features three Florida mayors; it occurred directly after Hurricane Matthew inundated the east coast and corresponds with chapter 2 of our video series. In this installment we discuss successful, local-level policies that address and mitigate the effects of sea level rise.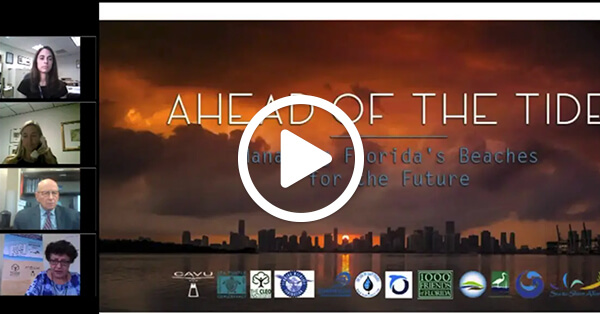 This installment in our web series combines topics from video chapters 4, 5 and 6. Hear from some of Florida's climate leaders on how to prepare our coasts for rising tides while simultaneously combating the issues in our daily lives.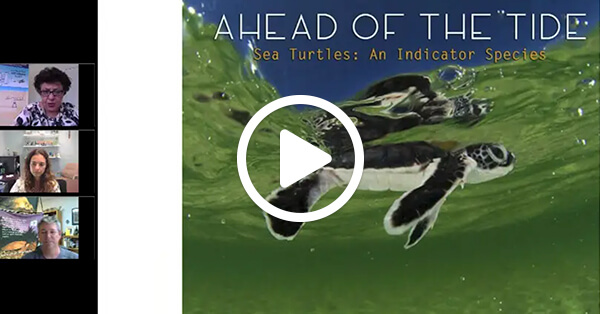 Join us in this web episode as we discuss climate change and sea level rise impacts to sea turtles and ways we should protect our coastlines without negatively impacting wildlife. HINT: Sea walls are bad news!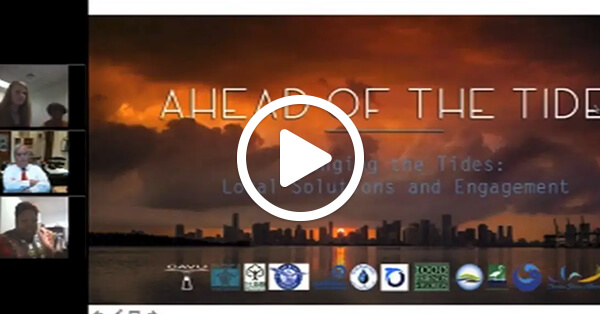 Part 5 in our webinar series corresponds to video chapters 8 and 9. In this episode we discuss local measures we can take to keep Florida ahead of the tide!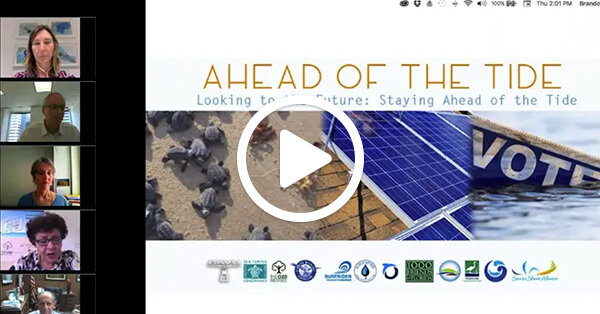 The final installment in our webinar series builds on Chapter 10 of our Ahead of the Tide video series to discuss the future of renewables and how we can make the economic and environmental benefits shine through!
Action Items
Live Forum 9/20/16
Attend the People's Climate March on October 23, 2016 at 1:00 PM at Government Center in Miami. Don't forget to make your signs!
Candidate Questionnaire: We are working on developing 10 questions to ask each candidates during the election season regarding their policies, key stances, and thoughts toward climate action.
Rising Waters 9/29/16
Prioritizing the adoption of a Carbon Tax or Fee to account for the true cost of carbon pollution.
Vote NO on Amendment #1 in November. This amendment is misleading and would limit solar energy in Florida. Florida Supreme Court Justice, Barbara Pariente explains, "Let the pro-solar energy consumers beware. Masquerading as a pro-solar energy initiative, this proposed constitutional amendment…actually seeks to constitutionalize the status quo."
Public Policy and Sea Level Rise 10/10/16
"If we don't lead by example, no one will listen:" The need to fund innovation and pursue an enterprise think tank focused on climate resilience for the greater Miami area.
The need to collectively support a carbon tax.
Managing Florida's Beaches for the Future 10/13/16
The need for intergovernmental cooperation and resiliency investments.
Engaging the public in an honest, transparent conversation to develop innovative adaptation plans for vulnerable areas.
Sea Turtles: An Indicator Species 10/20/16
Support legislation to:
End the construction of sea walls (it's a losing battle with the sea!)
End subsidies to keep rebuilding in harms way
Changing the Tides: Local Solutions and Engagement 10/27/16
Donate to orgs that fight SLR and CC through advocacy, outreach and education
As we must do with our politicians, demand that our teachers and religious leaders incorporate threats of sea level rise and climate change into their curriculums/sermons
Keep equity to the forefront when addressing effects to population: "SLR is not just an infrastructure issue, it's a human issue" -Valencia Gunder
Vote No on 1 and for leader who will #ActOnClimate
Switch to renewables in our personal and daily lives: "We didn't leave the Stone Age because we ran out of stones, so let's leave the fossil fuels in the ground." – Caroline Lewis
Looking to the Future: Staying Ahead of the Tide 11/3/16 
"The cost of inaction is the greatest cost." – Harvey Ruvin
"It's always seems impossible until it is done."  – Ann Hancock quoting Nelson Mandela
 Create a Federal Resiliency Partnership Fund to help finance proactive local efforts to address sea level rise
Invest in battery storage for renewables
Use California's Community Choice Energy program as a model for Florida